Oncology Reflexology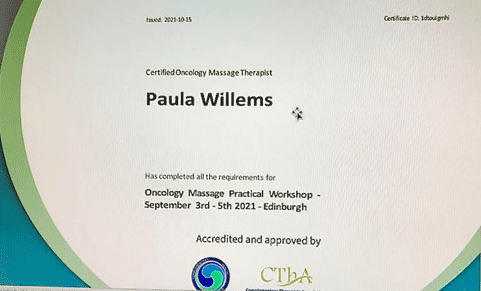 Paula is a qualified oncology massage therapist and reflexologist after completing this course which focused on developing her understanding of common conditions and how to manage the complexity of cancer.
A cancer diagnosis can be extremely traumatic, clients are often suddenly faced with their own mortality and an uncertain future. Complementary Therapy from Paula supports you both physically and emotionally with massage and reflexology, helping you manage stress and anxiety, improving sleep and managing pain.
Movement is helpful in preventing cancer cells getting the chance to embed, reducing chronic inflammation, improving immunity and repair pathways, and promoting calm. Sleep is often of better quality which also helps with repair and healing, as well as the ability to cope. It relieves muscle soreness and range of movement. Improves scar tissue elasticity and decreases adhesives qualities in soft tissues.
Treatments help you with your cancer journey, help to reduce isolation and provide a non-invasive touch therapy.
Length of treatment and type of treatment will be discussed in a telephone consultation and can take place in clinic or in your own home.
Looking for something special Search Reflexology By Paula website