Reflexology By Paula
Please like and share my page.
Reflexology is an effective complementary holistic therapy, through which the body's own natural healing abilities are assisted. Paula has been working as a Reflexologist for 11 years; classical training enhanced year on year through continuous professional development. Her clients seek Paula's skills for many reasons whether it's for health maintenance and relaxation or specific physical or emotional concerns.
Paula uses a combination of her skills: classical, Limbic, EFT, Lymphatic Drainage RLD) and more, tailoring treatments to client need. She helps people overcome their health condition or manage their physical or emotional pain, allowing them to reclaim their lives.
More detailed information about each specific 'type' of reflexology can be found under the 'Treatment' Page and specific modality i.e. Limbic. To summarise: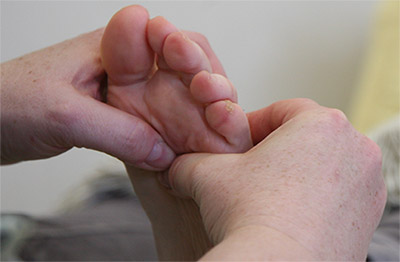 The Limbic and EFT pages are for people needing emotional support whether past, present or future concerns. Those suffering from anxiety, depression or chronic pain.
The RLD Reflexology pages talk about a technique which stimulates the immune system, very similar to MLD (Manual Lymphatic Drainage) except it's all on the feet. The uses are also very similar: Arthritis, Chronic Fatigue, Fibromyalgia, Migraines and Headaches, ME, Primary and Secondary Lymphoedema, fluid retention from injury/surgery, premenstrual symptoms, Asthma and Eczema, Sinus Problems and Aches and Pains.
The Reiki Page – It's not Reflexology but can be incorporated into a treatment as can Paula's skills at Indian Head Massage. Reiki is an energy treatment which again supports the body to heal itself, re-establishing equilibrium on all levels, promoting a state of relaxation. Both Reiki and Reflexology can be given as a 'distance' therapy in the comfort of your own home and local mobile reflexology treatments are also possible.
Working along holistic principles, reflexology takes into account body, mind and spirit as these are all interrelated. The treatment is not a foot massage although this can be incorporated. It is a specific technique which is tailored to meet the needs of the individual and a full consultation is always taken before the start of the first treatment. A reflexology session can be both relaxing and stimulating and certain reflexes of the feet may feel tender or sensitive, gritty or crunchy during a treatment. As these reflexes are treated and as muscle tensions eases, congestion and toxins are released, the nerve supply and circulation system optimized. Everyone's experience is different, and each appointment can be different depending on circumstances, but people generally relax and experience a sense of calm, leaving the clinic feeling supported, optimistic, rested and tranquil.
If you would like to book an appointment or have a enquiry, contact Paula on:

07962 886 356 or Email:

reflexologybypaula@hotmail.com. See availability below.
Paula
Wellbeing for life
Treatments available at:
Sunday unavailable

Monday - Friaday


124 Deanburn,
Penicuik,
Midlothian
EH26 0JA.
For direction to get to Paula in Penicuik click Penicuik map.

Saturday am


124 Deanburn,
Penicuik,
Midlothian
EH26 0JA.
For direction to get to Paula in Penicuik click Penicuik map.
Most people value 'word of mouth'; referral comments made by clients of 'ReflexologybyPaula.' can be found on the testimonials page.
Looking for something special Search Reflexology By Paula website