Indian Head Massage
History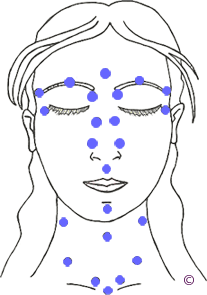 Indian Head Massage developed from rituals and routines passed down through generations of Indian families as part of their grooming and bonding; this technique played an important part in ceremonies of birth and marriage. It is based on the ancient system of medicine known as Ayurveda, meaning 'science of life and longevity' and is India's oldest healing system.
What is Indian Head Massage?
This massage was traditional for the head but western countries have add massage and acupressure bodywork to the back, neck and shoulders. Acupressure points on the head are larger and called Marma Points. The massage is gentle and rhythmic helping to clear congestion in the nerve pathways to relieve pressure and pain from tense muscles, sinus congestion, tired eyes and to encourage the drainage of lymph, increase circulation and restore energy balance. Specific Marma points may help different issues such as migraines, insomnia, regulation of mood and is deeply relaxing.
Who can benefit?
Indian Head Massage is suitable for most people and is particularly useful in relieving stress and tension; an appointment can be booked for the end of your working day. Massage by Paula are also able to offer late evening appointments, excellent for people with insomnia who can then go home and get a good nights' rest. For people who have desk jobs or driving occupations the upper body work is excellent for relieving aching, tired muscles and once again appointments can be made at the end of your working day or in a lunch break and tailored to the time you have available.
Massage by Paula Therapies also offers a corporate service, please visit our page Workplace Therapies.
There are contraindications when giving Indian Head Massage, for example Indian Head Massage is an excellent medium for relieving migraine but it cannot be carried out whilst the person is experiencing a migraine. Any concerns you may have can be discussed with a Massage by Paula Therapist or discussed with your GP.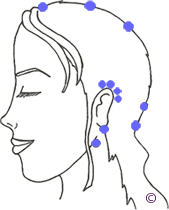 How does it help?
Relaxes the body and reduces tension and stress
Increases the blood flow to the upper body and head and improve circulation
Relaxes muscles and improves posture
Increases flexibility
Reduces toxins and increases lymphatic flow to the head and upper body
Improves joint mobility
Slows down breathing and reduces blood pressure
Aids sleep and soothes tired eyes
Increases oxygen to the brain
Relieves mental fatigue
Helps to raise mood by stimulating endorphin release from the brain
Can help reduce pain
Creates balance and calm
Restores the flow of energy creating a feeling of balance and calm
Examples which Indian Head Massage can reflect positively with:
Stress and tension
Migraine and headaches
Insomnia
Depression, fatigue and low mood
Sinusitis
Tinnitus
Back, Neck and Shoulder Pain
Stress and Indian Head Massage
Indian Head Massage is particularly effective as an antidote to stress as it relaxes and revitalises the mind and body, and can help with anxiety, tension and many stress related conditions. When the body reaches a state of relaxation, tense muscles start to unknot, blood pressure starts to lower, breathing becomes more regular and deeper, and the mind drifts into a state of passive awareness.
BODY – headache, back pain, digestive disturbances, sleep problems, sweating, shaking, skin rashes.
EMOTIONS – anxiety, depression, negativity, lower self-esteem, feeling worthless, frustration, anger and apathy.
THINKING – rigidity, memory lapses, loss of concentration, inability to set priorities, impaired decision making.
BEHAVIOUR – withdrawal, hostility, eating disorders, excessive drinking, smoking or eating, excessive risk taking.
It is important to know and understand your early warning signals and take action to deal with stress before it becomes disabling.
How can I expect to feel after a treatment?
You will reach a deep state of relaxation, so it is important to sit for a short while after a treatment. It is also important to drink plenty of water both after a treatment and throughout the rest of the day to help with detox. Should you feel the onset of a headache, this is your body detoxing and the effects should be eliminated by drinking plenty of water.
You will be completely tranquil, at peace and calm. You should also experience higher levels of concentration and clarity and be ready to face the rest of your week.
"Paula scores 19/20 with the Scotsman!"
From the Scotsman Newspaper on the 15th November 2014 Read the article now.
Just can't make your mind up which treatment to have? Why not try 'Top to Toe,' available for 60 or 90 minutes of bliss. Paula will start with treating your feet to a wonderfully relaxing reflexology treatment and then without you moving will continue your session with Indian Head Massage of the head and face.
Treatment takes place on the couch and works all the zones of your body from toe to head and head to toe.
"Paula scores 19/20 with the Scotsman!"
Spa Spy Pressure Points Edited by Gaby Soutar
---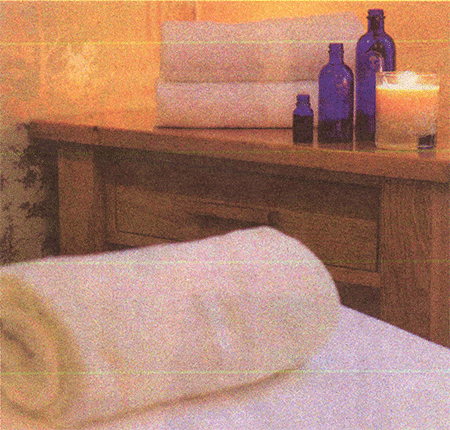 From Indian Head Massage to Reflexology, this top to toe treatment is true to its word.
THE TREATMENT
Top to Toe treatment, £45 for 60 minutes, at Neal's Yard Remedies (102 Hanover Street, Edinburgh 0131-226-3223, www.nealsyardremedies.com with Paula, who's available on Fridays 10am till 6pm and Saturdays noon till 6pm.
WHY GO?
If you want a deeply relaxing experiance, but don't like the idea of getting disrobed (You only have to take of your shoes, socks and jewellery), then this is the treatment for you.
OUR SPY SAYS
My Therapist, Paula, has tons of qualifications tucked under her alternative therapy belt, from Bowen Therapy, to Emotional Freedom Technique and Sports Massage. She's got that nurturing holistic therapist thing going on, in the she listens and is responsive to what you want out of the treatment. Reflexology is her first love and she even specialises in the limbic variety, which claims to stimulate the limbic system and thus, treat anxiety.
You could make this a Toe to Top and kick off with a foot rub, or let Barratt start at the top and work her way down. I went for the conventional route, and lay on the bed with tinkling music in the background.
The movement in a traditional Indian head Massage are quite subtle, with lots of pressing and cupping of the scalp, while thumbs gently need on certain acupressure points. It's not like sticking to one of those orgasmatron gadgets on your bonce, in that it'sinstantly pleasurable instead, your lulled into what Paula describes as an "Alpha State", which is similar to the chilled-out sensation that are induced by meditation.
To up the pampering factor, she uses massages a little of Neal's Yard Remedies Rose Oil onto my face, using figure of eight movements, and strokes of some of their Organic Coconut oil into my hair.(This is optional - You do not have to leave with a greasy wig).
However, the reflexology is my favourite element of the experiance (I'am biased, as I love having my feet fiddled with since I was small and would get them measured in Russell & Bromeley's children's department).
Paula held onto my toes, then used waving movements to relax before utilising various techniques, including rubbing her thumbs along the edge the edges of my toes and soles. She can treat various health complaints using this therapy, but gave me her generic stress-reducing ritual. And, oh my, did it work. I didn't want it to end.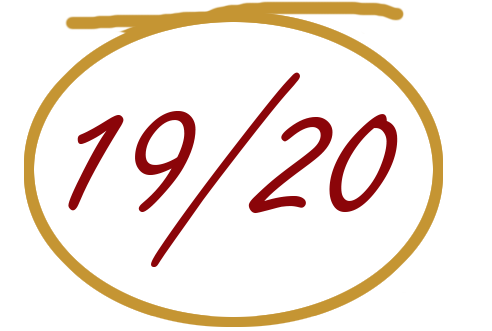 THE RESULTS
Rather than feeling sleepy or groggy after this treatment, I felt strangely alert - clear headed, yet calm. All the thoughts that usually crowd into my were kept at bay for a good couple of hours. Sweet Relief.
Back to top

Looking for something special Search Reflexology By Paula website