Reflexology By Paula
Please like and share my page.
Reflexology is an exciting and rewarding way to support people with their health and wellbeing. It is a fascinating, effective, physiological and neurological complementary holistic therapy, through which the body's own natural healing abilities are assisted.
The word "reflex" means to reflect. Pressure points on the feet and hands reflect all the parts of your body, both external and internal. Reflexology acts on parts of the body by stimulating the corresponding reflexes with compression techniques applied with the fingers and thumb.
Working along holistic principles, reflexology takes into account body, mind and spirit as these are all interrelated. The treatment is not a foot massage although this can be incorporated. Reflexology is a specific technique which is tailored to meet the needs of the individual and a full consultation is always taken before the start of the first treatment. A reflexology session can be both relaxing and stimulating and certain parts of the feet may feel tender or sensitive, gritty or crunchy during a treatment. As muscle tensions ease, congestion and toxins released, the nerve supply and circulation system optimized, people generally relax and experience a sense of calm.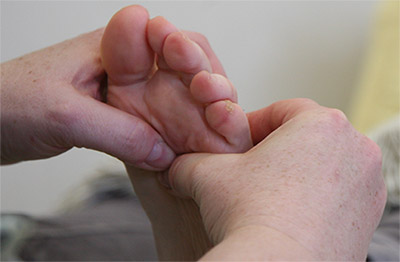 More detail can be found on subsequent pages and I am open to questions via email. I hope you find the site informative and inspiring.
Paula
Wellbeing for life
Paula is qualified in both Massage and Reflexology; for more information on Massage visit www.massagebypaula.co.uk
Most people value 'word of mouth'; referral comments made by clients of 'ReflexologybyPaula.' can be found on the testimonials page.
To book an appointment with Paula please Tel:

07962 886 356 or Email:

massagebypaula.co.uk. See availability below.
Treatments available at:
Monday 08:00 am to 2:45 pm


Revitalize
66 Ratcliffe Terrace,
Edinburgh,
EH9 1ST.
Book Paula online for treatment at Revitalize Edinburgh.
For direction to get to Revitalize click Revitalize map.

Tuesday 09:00 am to 4:00 pm


124 Deanburn,
Penicuik,
Midlothian
EH26 0JA

Wednesday 12:30 pm to 7:30 pm


Revitalize
66 Ratcliffe Terrace,
Edinburgh,
EH9 1ST.
Book Paula online for treatment at Revitalize Edinburgh.
For direction to get to Revitalize click Revitalize map.

Thursday 09:00 am to 11:00 am


124 Deanburn,
Penicuik,
Midlothian
EH26 0JA

Thursday 12:00 noon to 3:30 pm


Revitalize
66 Ratcliffe Terrace,
Edinburgh,
EH9 1ST.
Book Paula online for treatment at Revitalize Edinburgh.
For direction to get to Revitalize click Revitalize map.

Friday 09:00 am to 3:00 pm


124 Deanburn,
Penicuik,
Midlothian
EH26 0JA

Alternate Saturday 09:00 am to 3:00 pm


124 Deanburn,
Penicuik,
Midlothian
EH26 0JA.
Sunday unavailable
Mobile Massage available

Seated Only

. For a quote please email Paula on massagebypaula.co.uk
Looking for something special Search Reflexology By Paula website